New 1/4 "FACOM impact bits and accessories sets
for professional use in automotive and industry!
o
EN.1J124PB – bit and drill bit set, 24 elements
EN.1J150PB – BIT, Drill bit and accessories, 50 ELEMENTs

Sets for automotive, ideal for:
- brake pad changes,
- brake disc and drum screws,
- body panel screws and under car protection panels.
EN.1J130PB – bits and accessories, 30 elementS
Set for industry, ideal for
- industrial machinery servicing,
- elevator servicing and general maintenance.
o

MODUŁOWE KASETY Z MOŻLIWOŚCIĄ UKŁADANIA JEDNEJ NA DRUGIEJ
Zestawy dostarczane w wytrzymałych kasetach.
Szybkie wyciąganie i blokowanie końcówek.
Konstrukcja kasety z możliwością łączenia z kasetami małymi i średnimi.
Odporność na upadek, solidna, przyciemniona pokrywa.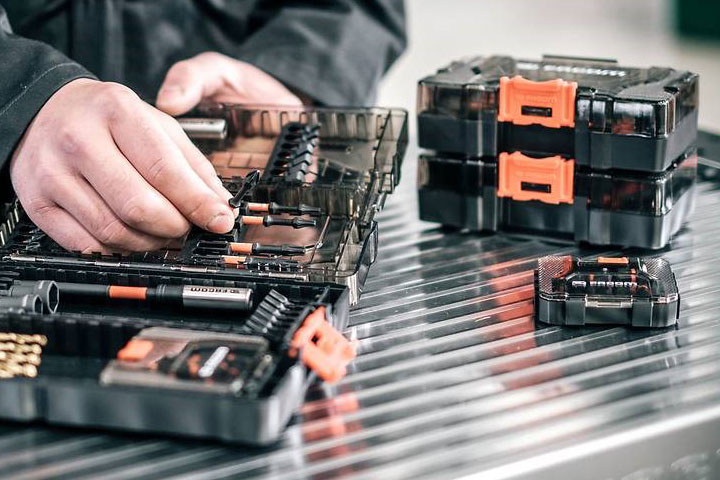 WYTRZYMAŁE BITY: PODWÓJNA STREFA SKRĘTNA
Optymalne przeniesienie momentu obrotowego!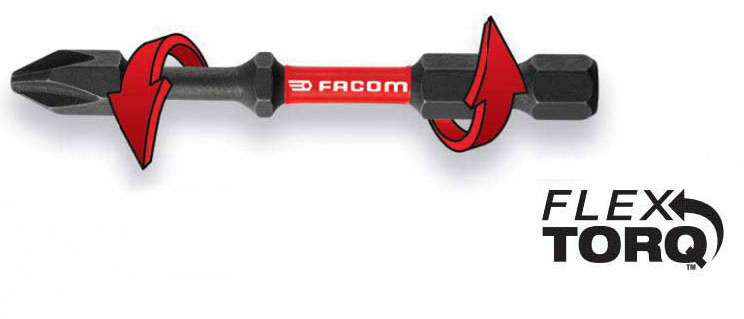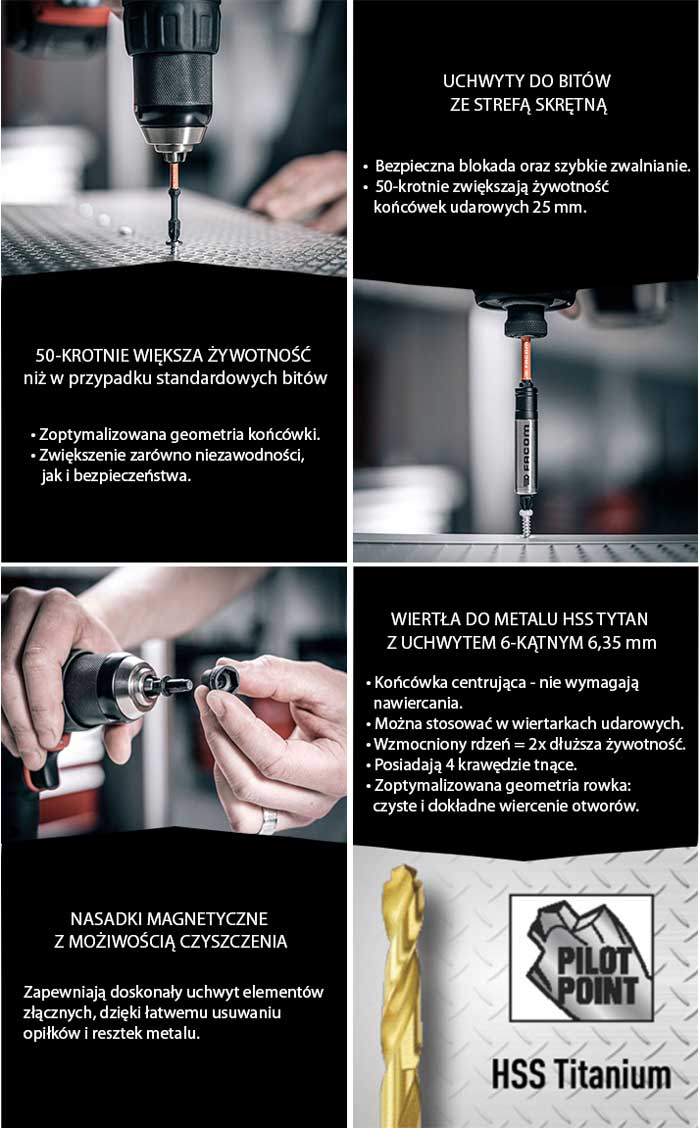 ZESTAWY KOŃCÓWEK, WIERTEŁ I AKCESORIÓW

Przejdź do produktów:
PRODUCT
SYMBOL
DESCRIPTION
EN.1J24PB

• 1/4 "- 6.35 mm drive
• Quantity of elements: 24
• 25 mm impact bits:
- 6-point: 3, 4, 5, 6, 7 x2, 8 mm
- Torx: T10, T15, T20 x2, T25, T30, T40
• 63 mm impact Torx bits:
- Torx: T20, T25, T30, T40
• Titanium drill bits: 4, 4,2, 5, 6, 7 mm
• 92 mm Torsion bit holder





EN.1J30B

• 1/4 "- 6.35 mm drive
• Quantity of elements: 30
• 25 mm impact bits:
- 6-points: 3, 4, 5, 6, 8, 10 mm
- Phillips and Pozidriv: PH1, PH2, PZ1, PZ2 x3, PZ3
- Torx: T10, T15, T20 x2, T25, T30, T40
- Flat: 5.5 mm
• 63 mm impact bits:
- 6-points: 4, 5, 6, 8, 10 mm
• 92 mm Torsion bit holder
• 3 Magnetic nut drivers: 8, 10, 13 mm

EN.1J50B

• 1/4 "- 6.35 mm drive




• Quantity of elements: 50


• 25 mm impact bits:
- 6-points: 3, 4, 5, 6, 7 x2, 8 mm
- Phillips and Pozidriv: PH1, PH2, PH3, PZ1, PZ2 x2, PZ3
- Torx: T10 x2, T15, T20 x11, T25, T30, T40
• 63 mm impact bits:
- 6-points: 4, 5, 6, 7 mm
- Torx: T15, T20, T25, T30, T40
• Titanium drill bits: 4, 4,2, 5, 6, 7 mm
• 2 Torsion bit holder: 92, 152mm
• 3 Magnetic nut drivers: 8, 10, 13mm