Every year Facom promotes its best sellers in special brochures. In promotional catalogues we always find the most professional tools of the highest quality and the best prices! They are the most frequently selected by the customers.
New products are also emerging, introducing innovative solutions for the automotive industry.
o
i
FACOM BESTSELLERS 2018
Polish premiere of a promotional brochure



We encourage you to look at the brochure in the PDF file, or to submit a wish to receive a printed version.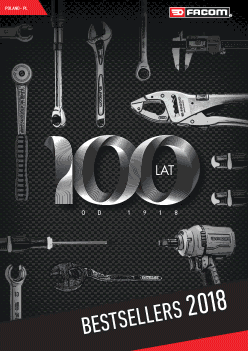 Below you will find a link to download the brochure (PL version).
Download polish version of Facom Bestsellers
FACOM AKCJA BESTSELLERS 2018_2019.PDF [32MB]
Quick preview:


If you want to recive a paper version of the catalogue of Polish version write to us (napisz do nas, ) and we will send it to you.


See through the current sales here:
i
i
Would you like to be up to all the new offers and recive a notification from us with a link to download new FACOM catalogues?
Choose a convenient way for yourself:
Subscribe
to our newsletter

Like us on Facebook


Let us know via email